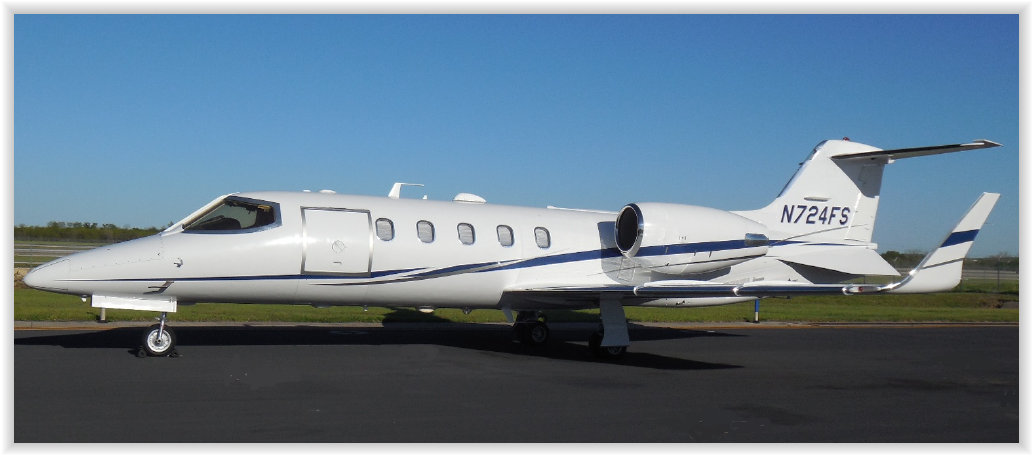 {Copyright (C) 2016 Austin Aircraft Sales, All Rights Reserved} Austin Aircraft Sales is a Bradford W. Lee Investments, Inc. Company
evenings: 512-255-5667

fax: 512-477-7682
phone: 512-477-4600
Airframe:
2,010 Hours Total Time
1,403 Cycles
Engines:
Left Engine Serial Number, P99588
2,010 Hours, MSP Gold
Right Engine Serial Number,
P99589
Avionics:
Dual Honeywell VC-401B Coms
Dual Honeywell UN-411B Navs
Bendix/King KFC-3100 Autopilot
Bendix/King EFS-50, 5 Tube
Bendix/King DFS-431B ADF
Universal UNS-1C FMS
Honeywell KRA-405 Alt
Universal CVR-30A
Honeywell DM-441B DME
Dual Honeywell TRS-42/Mode C Transponders
Bendix/King CAS-67A TCAS-II
Allied Signal EGPWS
Allied Signal DEECs
Airtex C406-2 ELT
Equipment:
Raisbeck ZR LITE Performance System
Raisbeck Aft Fuselage Locker
36" Cargo Door
Single Point Refueling
Dee Howard TR-400 Thrust Reversers
Cabin Power Switch
RVSM Compliant
Interior:
Recent Brown Leather Interior, High Gloss Wood Cabinets, Eight Passenger Seats in a Center-Club Configuration, Belted Flushing Toilet, Airshow 400 with Two 9" Displays, 110 Volt Outlet in Passenger Cabin
Exterior:
Allover White with Blue and Silver Trim. Original and in Very Nice Condition
Remarks:
17,200 Ramp Weight
17,000 T/O Weight
13,500 Zero Fuel Weight
11,102.67 Empty Weight
12 Year Inspection Completed By West Star, Grand Junction, CO in 2013
Enrollerd on CAMP
Based at Austin, Texas
Please Click On Pictures To Enlarge
2001 Learjet 31A
Registration: N724FS ~ Serial: 231
General Aviation Sales in Austin, Texas since 1976

The information contained herein was obtained from the aircraft permanent records and personal observation. No warranties are made as to Fitness, Merchantability or Accuracy. Buyers are strongly encouraged to confirm all details to their complete satisfaction prior to purchase. Aircraft offered subject to prior sale or withdrawal from the market without notice.
Learjet 31A Exterior Picture
Learjet 31A Instrument Panel.
Learjet 31A Doorway