1985 Cessna Citation III
Serial 650-0101
Airframe:
5886 Hours Total Time Since New
Landings:
4071 Total Landings Since New
Engines:
Garrett TFE 731-3C 3,650 Pounds of Thrust
5851 Hours Total Time Since New, (Both)
Both Engines Enrolled on MSP Gold
Left Serial Number: 87312
Right Serial Number: 87313

Avionics:
Bendix King Four Tube EFIS-10 System
Dual Collins VHF-21C Coms (8.33 Spacing with FM Immunity)
Dual Collins VIR-32 Navs
Collins ADF-60 ADF
Collins DME-42 DME
Dual Collins TDR-90 Transponders
Bendix King 10 Flight Director
Sperry SPZ-650 Autopilot with Altitude Alert and Pre-select
Dual Sperry AZ-810 Air Data Computers
Dual Global GNS XLS FMS/GPS
Bendix King RDS-84 Color Weather Radar
King KHF-950 HF
Sperry AL-101 Radio Altimeter
Sandell ST3400 TAWS
L3/Goodrich HP-899 with VIP TCAS
Sunstrand Cockpit Voice Recorder
L3 F-1000 Flight Data Recorder
RVSM Approved

Equipment:
Garrett GTCP 36-150W APU
Freon Air-Conditioning
Thrust Reverse
Upgraded Triple Disc Brake Assemblies, P/N: 2-1502-2/3
Aircell Iridium Phone System Provisions
Engine Fan Sync
Logo Lights
Nav Recognition Lights
TAS/SAT/TAT Indicator
76 Cubic Foot Oxygen System
Angle of Attack System
Cabin Entry Lights
Aft Baggage Compartment Heater
Dual Jeppesen Chart Cases
Battery Temperature Monitoring System
Sunvisor Monorail

Interior:
Executive cabin with center club seating configuration. Nine-passenger all leather interior features a two-place divan, six main cabin seats and a belted lavatory seat. Cabinetry includes dual executive writing tables, two small tables, DVD player with large screen mounted in forward bulkhead and large forward refreshment center. Separate aft lavatory
with privacy door. Aircell Iridium phone system provisions. Indirect headliner floodlights.
All new interior and cabinetry completed in October 2005. Current condition is excellent.

Exterior:
White with Cumulus Grey, Light Burgundy and Harvest Gold Accent Stripes. Completely stripped and repainted in October 2005. Current paint condition is excellent.
Remarks:
+ Ten year structural inspection of interior fuselage and supporting structure completed in
June 2008 at Cessna Citation Service Center.
+ Phase 1-5 Inspections completed at Cessna Citation Service Center
+ New pilots windshield installed November 2005.
+ No known damage history
+ Cescom Enrolled
+ Engines on MSP Gold.
{Copyright (C) 2018 Austin Aircraft Sales, All Rights Reserved} Austin Aircraft Sales is a Bradford W. Lee Investments, Inc. Company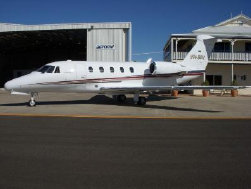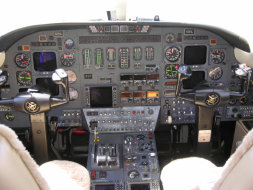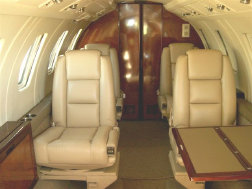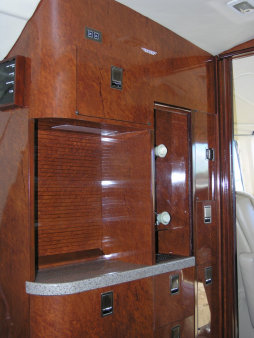 Specifications Subject To Verification Upon Inspection
Aircraft Subject To Prior Sale Or Withdrawal From The Market Without Notice
evenings: 512-255-5667

fax: 512-477-7682
phone: 512-477-4600
General Aviation Sales in Austin, Texas since 1976